[Now 12oz Bag] Peru Selected Decaf -- Swiss Water Process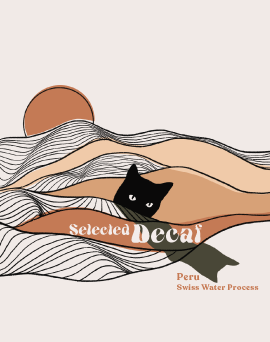 Single Origin
Decaf
12oz / 340g
Light Medium Roast. (Because it is already decaffeinated, we don't roast any darker to take away more flavor)
Cola, molasses, cocoa powder

This PERU SELECT WATER DECAF coffee is curated from lots that we have selected based on cup profile, physical preparation, and potential to express excellently once decaffeinated.
During the Swiss Water Process, green coffee is hydrated to expand the beans for caffeine extraction. The hydrated green coffee is then introduced to Green Coffee Extract (GCE), a unique solution of concentrated coffee solubles that allows the caffeine to leave the green coffee via osmosis while minimizing the loss of desired flavor compounds. Once the caffeine has been removed the green coffee is re-dried and re-bagged for transport, and the GCE is filtered of its caffeine through proprietary carbon filters and recycled to be used again.
-
Grower
Coffee Cooperatives from Peru
Variety
Bourbon, Catimor, Caturra, Mundo Novo, Pache, and Typica
Region
San Ignacio, Cajamarca, Peru
Harvest
April - September
Elevation
1250 – 1800 masl
Soil
Volcanic loam
Process
Fully washed and dried in the sun
Certification
Decaf, Fair Trade, Organic
-
100% Compostable Packaging with corn starch lining and 100% Compostable tree-free labels are now made of sugar cane. Please keep it out of sunlight & heat, and compost after you finish enjoying your coffee.

Label illustration
By Sabrina/Shan.